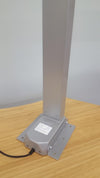 Short Brackets for LifeDesk
This accessory allows you to install 2 leg LifeDesk bases on worksurfaces shorter than 43". 2 brackets come in 1 kit
RightHeight:LDShort Bracket Silver
Ask about this product
FedEx Delivery (Home or Biz)
This accessory allows you to install 2 leg LifeDesk bases on worksurfaces shorter than 43".
2 brackets come in 1 kit
Warranties are issued by and honored by each individual manufacturer and not by the reseller, Summit. Life Desk products from Right Height Manufacturing warrants its products to the original consumer purchaser to be free from defects in material and workmanship for a period of seven (7) years form purchaser's receipt. We've never had a Life Desk unit returned. Ever.