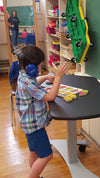 Student Desk for Home or School
Portable Adjustable Height Desk to Maximize Student Learning and Health Mobile Small Footprint Solution for Better Health and Education Research shows that kids need movement in their day to thrive. Sit-stand desks have been used in schools to help combat childhood obesity and with kids on the spectrum to give them the
Ask about this product
FedEx Delivery (Home or Biz)
Portable Adjustable Height Desk 

to Maximize Student Learning and Health
Mobile Small Footprint Solution for Better Health and Education
Research shows that kids need movement in their day to thrive. Sit-stand desks have been used in schools to help combat childhood obesity and with kids on the spectrum to give them the freedom of movement to help improve focus. The Student Desk from LifeDesk is a commercial grade, affordable solution uniquely designed to accommodate kids needs and parents' budgets. Features include:
Electric-motor-driven 3-segment leg with an ultra-sturdy low profile base.
Programmable 4 setting handswitch for easy adjustment.
Ergonomic top with curved sloped front edge 

Weight Capacity is 175 lbs.
Height Range is 25.5" to 51.5" with removable casters.
Suitable for use by kids and adults up to 6'7".
Commercial Grade Design with Seven-year Product Warranty.
Read the Case Studies:
Case Study 1
Case Study 2
Call us at 603-629-9995 if you need a quote on installation services.
Shipping & Handling included in the price.

Warranties are issued by and honored by each individual manufacturer and not by the reseller, Summit. Life Desk products from Right Height Manufacturing warrants its products to the original consumer purchaser to be free from defects in material and workmanship for a period of seven (7) years form purchaser's receipt. We've never had a Life Desk unit returned. Ever.